Cafe Chantant - Songs from Dubliners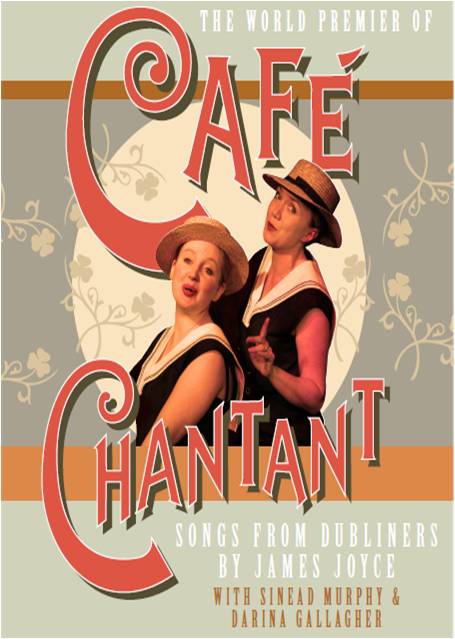 Cafe Chantant is an hour-long theatrical presentation of the music from James Joyce's 'Dubliners'.
The Dublin of Joyce's Dubliners is a very noisy place indeed - bells, calls, honks, whistles, prayer, clatter, bang, children crying, drunken roars and raucous laughter. But it is music that is central to the city soundscape. It is a city of opera and composers, of music hall and pantomime artistes, of music lessons, church choirs and organists, organ grinders and street harps.
Darina and Sinead bring their own inimitable style to the music of Joyce's famous collection of short stories. From the beauty of Balfe's 'Marble Halls' to the music hall irreverence of 'I'm A Naughty Girl'; excerpts from comic operas of the era and the haunting traditional air of 'The Lass of Aughrim'.
In 2014, Cafe Chantant was performed at the James Joyce Centre as part of Dublin City Library's One City One Book programme and 100th anniversary of the publication of Dubliners. They have worked with corporate PR Company Grayling to promote International Irish whiskey brand links with James Joyce and organised a fundraising evening for Sweny's chemist on James Joyce's Birthday showcasing artists working with aspects of James Joyce.
---
For more information or to book Cafe Chantant contact: Darina Gallagher
A: 7 Daneswell Road, Glasnevin, Dublin 9
E: [email protected]
Ph: 0872860388